20 Best Places To Visit In Key West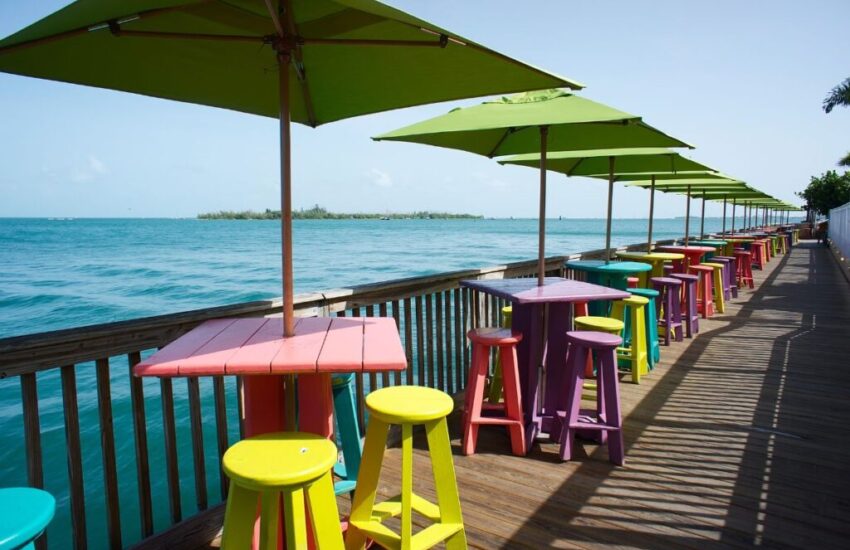 Published November 16, 2023
Key West is a paradise at the southernmost tip of the United States. It's where the Gulf of Mexico and the Atlantic Ocean meet. If it's your first time to visit, you might be wondering what to do in Key West. 
Don't let its picturesque facade fool you. The lively island offers more than meets the eye. It's not only a place to go, but also an amazing adventure that'll excite and inspire you.
Key West is a tropical haven with palm trees, clear waters, and a rich blend of history and culture. In this article, we'll explore the best places to visit in Key West and discover why it's more than a destination; it's an adventure waiting to happen. 
When Is The Ideal Time To Visit Key West?
Before you travel to Key West and explore its top destinations, it's essential to consider the ideal time for your trip. Key West boasts a warm and tropical climate year-round, with peak tourist season from November to April. 
During this period, the weather is delightful, offering clear skies. However, it's worth noting that accommodation prices tend to be higher, and popular attractions can be crowded. 
For a more serene and budget-friendly experience, consider visiting during the spring or fall. Remember, though, that hurricane season typically spans from June to November.
Best Places To Visit In Key West 
Now, let's embark on a journey to discover the captivating destinations that Key West has to offer. From its rich historical sites to its awe-inspiring natural wonders, prepare to be amazed by Key West tourist attractions.
Duval Street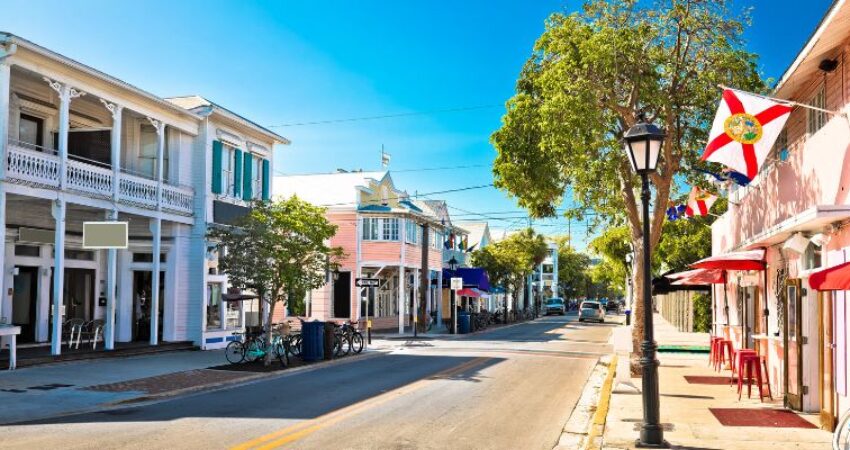 Duval Street, the vibrant heart of Key West, is the ideal starting point for your adventure. The iconic thoroughfare stretches from the Gulf of Mexico to the Atlantic Ocean. It offers a myriad of delights for visitors. 
While you explore, you'll find charming shops, art galleries, and old Spanish Colonial buildings. At night, Duval Street becomes the center of Key West's famous nightlife. There are many cafes, bars, and restaurants. Drop by the world-renowned bar, Sloppy Joe's, or indulge in local delicacies such as conch fritters and key lime pie. For a touch of history, go on an Old Town Trolley Sightseeing Tour. It conveniently stops at notable attractions along this street. 
Mallory Square
As evening descends, Mallory Square is the place to be. Visitors must see the majestic sunset celebration, as it comes to life. In addition to admiring Key West's beautiful sunsets, the square is also an entertainment hub. Musicians, street performers, clowns, and jugglers gather here to showcase captivating performances. Enjoy the lively ambiance while exploring the offerings of local artists and vendors. 
You can have a great food experience by trying different restaurants and bars. Among the top choices is El Meson De Pepe's Restaurant & Bar. Indulge in flavors of Cuban-inspired cuisine while enjoying amazing views. 
Tip: If you want to bring home the perfect souvenir, drop by at the historical Key West Sponge Market. 
The Hemingway Home And Museum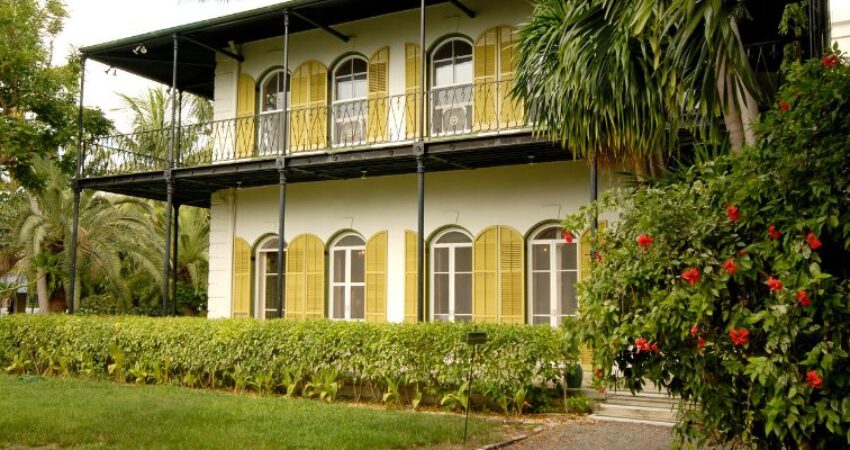 Immerse yourself in the world of Ernest Hemingway, one of America's literary icons. A visit to this acclaimed literary figure is one of the best things to do in Key West. The Hemingway Home and Museum offers an engaging journey through the author's former residence. It's where he crafted some of his most renowned works, including the timeless classic "The Old Man and the Sea." 
Don't miss the museum's enchanting attraction: the famous six-toed cats. They are descendants of Hemingway's beloved pets. Stroll through the verdant gardens and explore the Spanish colonial-style house. Discover the fascinating life of this famous writer and how Key West inspired him. 
Tip: If you want to make the most of your visit, be early and bring cash.
Key West Museum Of Art & History At The Custom House 
The Key West Museum of Art & History at the Custom House is a must-visit spot for art lovers. Housed in an impressive historic building, the museum showcases many artworks and exhibitions. 
From local to international artists, it provides a glimpse into the art scene in Key West. There are frequent temporary exhibits, so there's always something new to discover. Aside from visual arts, the museum hosts cultural events and educational programs. It serves as a hub for creativity and inspiration on the island.
Southernmost Point Buoy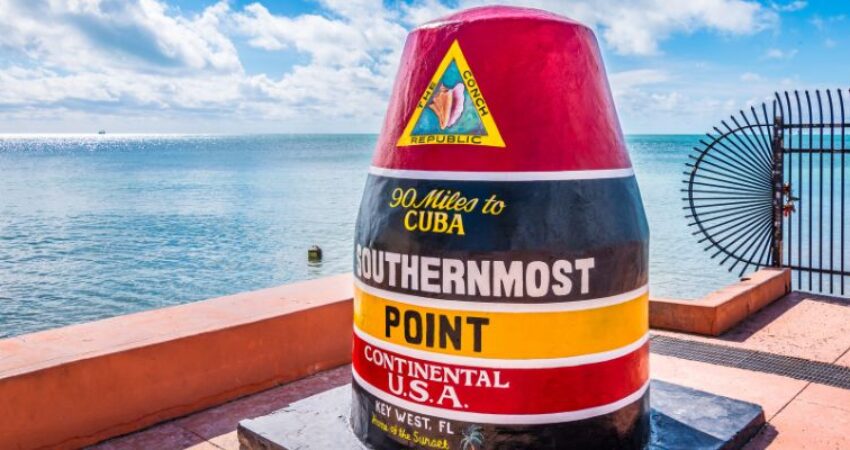 A visit to Key West is incomplete without capturing a snapshot at the Southernmost Point of the Continental US. The famous spot has a vibrant buoy. This is the southernmost point of the United States, before Hawaii or the outlying territories. Capture the essence of Key West's geography in a sought-after photo opportunity.
Truman Little White House
Don't miss visiting Harry S. Truman's Little White House. It was initially constructed to accommodate naval officers during the Spanish-American War. It later became a cherished retreat for President Harry S. Truman and several esteemed leaders. 
Today, it's a museum showcasing artifacts from its rich presidential history. Explore the rooms where pivotal decisions were made and check out Truman's iconic "The Buck Stops Here" sign. 
Martello Towers
Keep learning about history at the Fort East Martello Museum and discover the intriguing Martello Towers. The impressive structures were constructed during the Civil War era and played a crucial role in safeguarding the island. 
Discover the displays showcasing Civil War artifacts, beautiful art pieces, sculptures, and the famous haunted Robert the doll. 
Dry Tortugas National Park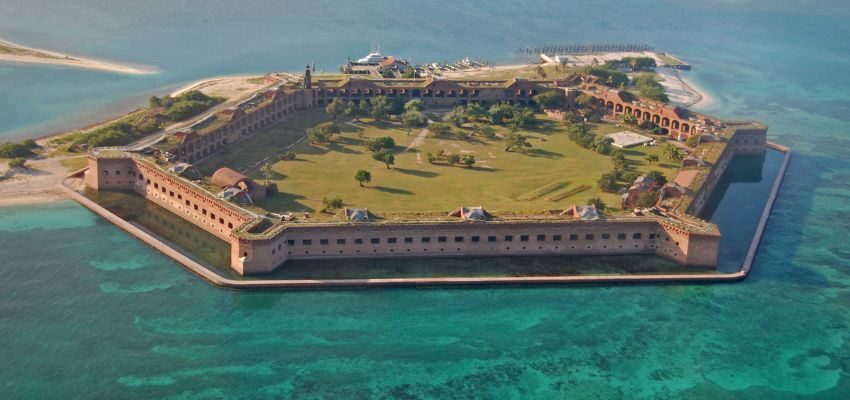 Start an unforgettable adventure by going on a day trip to Dry Tortugas National Park. The national park is about 70 miles west of Key West. It's secluded and features Fort Jefferson, a huge 19th-century military fortress. It's accessible by a public ferry from Key West. In case your next destination is Boca Raton, why not get a Boca Raton yacht charter once you get there.
Get to know the tales of the past, including its prominent role in Civil War history. After learning about the location's past, you can do many things in the park. You can swim, snorkel, and explore the beautiful beaches with clear water. 
The Audubon House & Tropical Gardens
The Audubon House and Gallery exudes 19th-century charm. It's an opportunity to glimpse the world of renowned naturalist John James Audubon. The historic house features a remarkable collection of original lithographs by Audubon. The works capture the diverse and captivating wildlife of the Florida Keys. 
Explore the house and find beautiful gardens with tropical plants and lovely orchids. For nature lovers, the house offers a tranquil and enlightening visit.
Oldest House Museum & Gardens
The Oldest House Museum, built in 1829, was the former home of Francis B. Watlington. The remarkable colonial-era residence, with a beautiful garden, provides a glimpse into the island's past. 
As the name implies, it stands as one of the oldest houses on the island. It offers valuable insights into Key West's rich cultural heritage and evolution. Discover preserved rooms and artifacts, and relax in the garden, away from the busy streets of Key West. 
Smathers Beach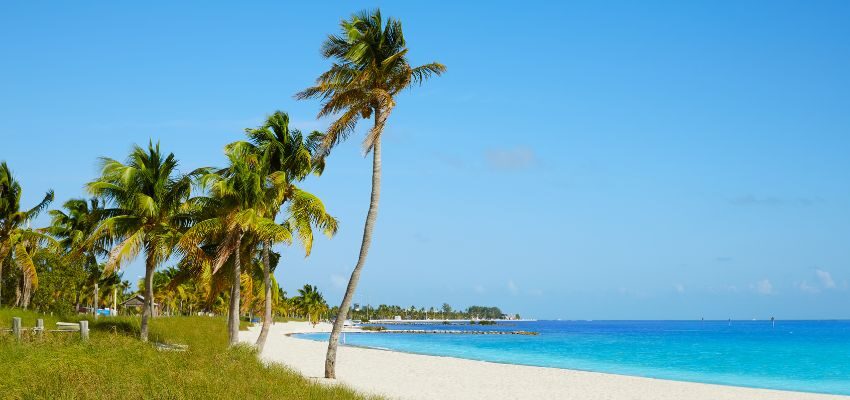 Key West is famous for its rich history and vibrant culture, but it also boasts stunning beaches, with Smathers Beach as a top choice. The beach on South Roosevelt Boulevard is up to two miles long and has lots of amenities and water sports.
At Smathers Beach, you can enjoy jet skiing, parasailing, beach volleyball, or relaxing in the sun. It's perfect for everyone! The beach is special because it has a great spot to see beautiful sunrises over the Atlantic Ocean. It's best to start your day by strolling along the beachfront and watch as the sun emerges on the horizon. 
Key West Aquarium
For family fun, head over to Key West Aquarium. It's the ideal destination to learn more about the captivating underwater world of Florida Keys. Get up close with the diverse array of marine life, including majestic sea turtles, jellyfish, stingrays, and sharks. 
One of the main attractions for visitors is the touch tank, where you can interact with local sea animals. It's an opportunity to interact with whelks, sea stars, conchs, and crabs. Make sure to capture all your unforgettable underwater experiences. 
Mel Fisher Maritime Museum
Discover the treasures salvaged from a 17th-century shipwreck at the Mel Fisher Maritime Museum. The institution is a testament to people's fascination with sunken ships and hidden treasures. 
In 1969, Mel Fisher and his crew went on a journey to find sunken ships, Nuestra Senora de Atocha and Santa Margarita. In the 1970s, they found the ships loaded with gold, silver, copper, and gems. 
The museum showcases a vast array of artifacts from many wrecks. You can see different treasures at the exhibit. One of them is a 77.76-carat emerald. They also have rare items like navigational tools. The museum has exhibits about underwater archaeology and diving. They also show films and have hands-on demonstrations.
Key West Lighthouse And Keepers Quarters Museum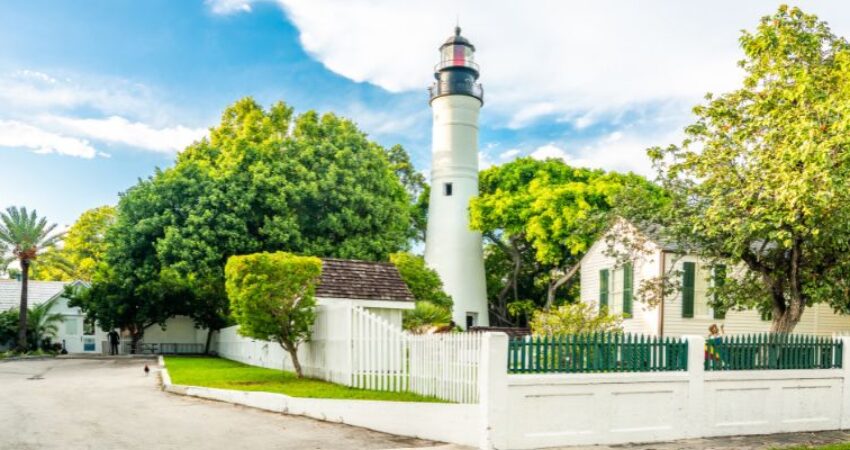 The Key West Lighthouse is a historic structure at 86 feet that offers panoramic views of Key West. The well-preserved lighthouse and building was built in 1847. It was a guiding light for sailors since the 19th century, showcasing the island's rich maritime heritage. 
As you climb the 88 steps to the observation deck, you'll discover the lighthouse's history and dedicated keepers. Once you reach the top, soak in the fantastic views of the vista spanning the city and its encompassing waters. 
Shipwreck Treasure Museum
One of the fun things to do in Key West is explore what the Shipwreck Treasure Museum offers. Key West's history is closely connected to shipwrecks. The Shipwreck Treasure Museum offers a glimpse into this. 
Check out the interactive exhibits, including a towering 65-foot lookout. It's a fantastic journey with family or friends through shipwrecks and treasure hunting. Discover the brave wreckers who risked everything to save valuable cargo from sunken ships. Experience the island's maritime history and adventure in this educational and enthralling opportunity. 
Key West Butterfly And Nature Conservatory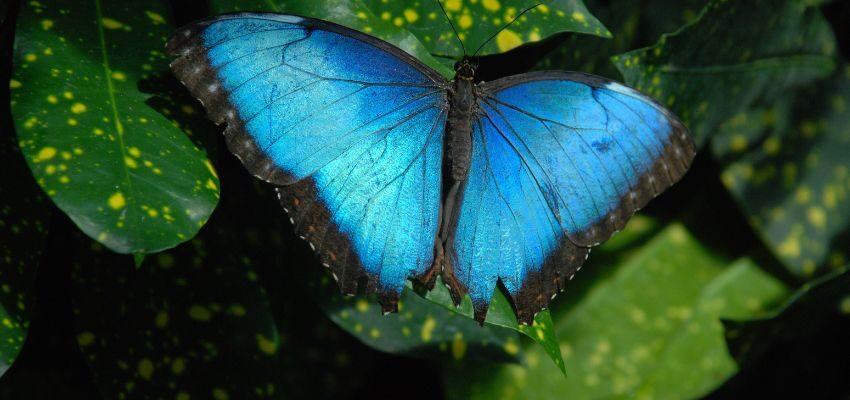 For a family-friendly destination, head to Key West Butterfly and Nature Conservatory. The carefully controlled environment of this haven houses a wide array of butterflies and exotic birds. 
Discover a tropical paradise in colorful gardens. It's filled with butterflies of various colors and patterns. The conservatory also offers a learning center and art gallery. It's your chance to reconnect with nature and marvel at the beauty of these enchanting creatures.
Blue Heaven
Blue Heaven offers an authentic Key West experience for visitors. It's housed in a historic building with a vibrant past. The unique dining spot captures the essence of the island. The ambiance at Blue Heaven is laid-back and eccentric, ideally reflecting Key West's carefree spirit. It's one of the recommended places to visit in Key West if you're after an unforgettable gastronomic spree.
What truly sets it apart is the tantalizing fusion cuisine that'll delight your taste buds. The menu has delicious options for breakfast like tropical pancakes. For dinner, you can enjoy Jamaican jerk chicken or heritage pork tenderloin. Select the outdoor seating area to enjoy your meal under the shade of tropical trees while listening to live music. Don't forget to indulge in their famous key lime pie, the ultimate sweet finale of your gastronomic journey.
Key West Cemetery
Key West Cemetery is an unusual but fascinating place that reveals the island's unique history and culture. The cemetery was founded in 1847. It was created after a hurricane destroyed the original cemetery.
As you explore the cemetery, the diverse range of grave markers reveals the stories of those laid to rest. From elaborate memorials to intriguing epitaphs, it embodies the colorful character of Key West. 
Fort Zachary Taylor Historic State Park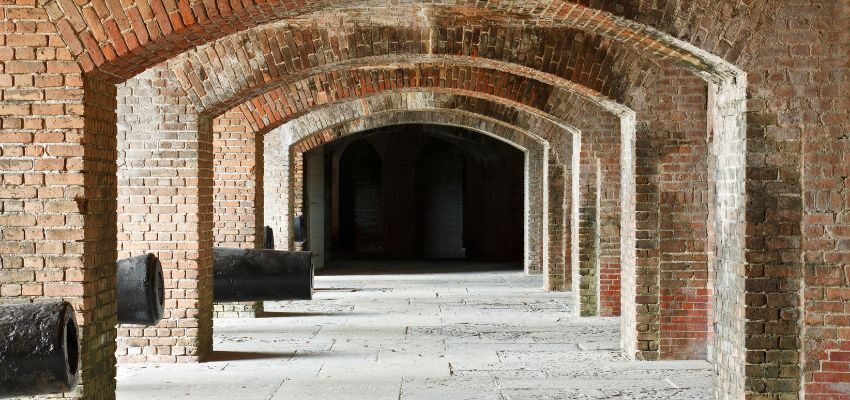 Right in the heart of Key West is Fort Zachary Taylor State Park. It's a gem that boasts an alluring blend of history and nature. Anchoring the park is the iconic Fort Zachary Taylor, a 19th-century military stronghold. 
Go on a guided tour to learn about the island's rich history and role in the Civil War and Spanish-American War. Beyond the fort, Key West's beautiful beach beckons with sunny sands and inviting waters. Take a dip into the crystal-clear depths to explore marine life and coral reefs. 
Kermit's Key West Key Lime Shoppe
While enjoying the culinary diversity at Blue Heaven, make sure to drop by Kermit's Key Lime Shoppe. Think of this spot as a worthy item for your bucket list of things to do in Key West. Situated in the Historic Seaport, it's a must-visit bakery and gift shop during your visit. 
The main highlight is no other than the key lime pie. The delectable treat is the ideal balance between tart and sweet with a creamy texture. It's something you shouldn't miss out on. 
Embark On Your Key West Journey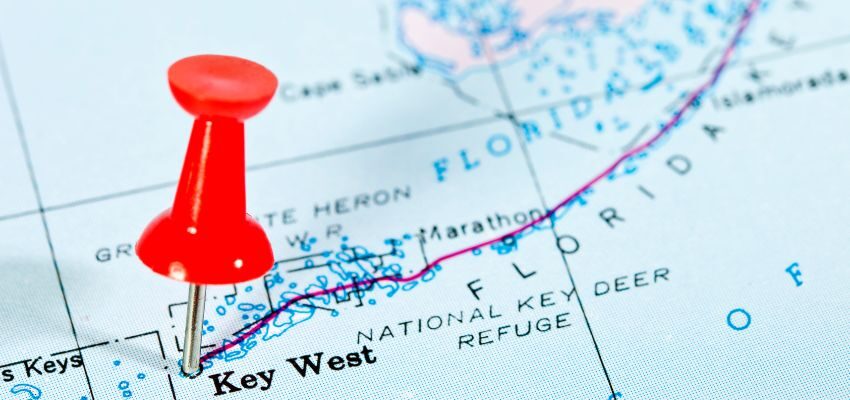 Key West, with its rich history, diverse culture, and stunning natural beauty, offers many experiences for travelers of all ages. You'll create unforgettable memories on this unique island by strolling down lively Duval Street, exploring historic homes, or relaxing on pristine beaches. Plan your visit to Key West based on your interests, and you'll discover the ideal blend of relaxation and adventure. So, pack your bags and embark on your Key West adventure to explore these amazing places to visit in Key West.
Experience Yacht Charters With Seafari In Boca Raton Florida
Looking for a great time on the water in Boca Raton Florida? Seafari Yacht Charters is number choice for yacht rentals in Boca Raton. Book our yachts for parties, exciting day trips to the Bahamas, romantic yacht dinner cruises, and much more. Come experience all South Florida has to offer with us.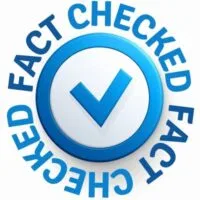 Fact Checked By Experts
Our team of internal experts has conducted rigorous fact-checking on this content. Explore the editorial standard for our website to dive deeper into our commitment to excellence.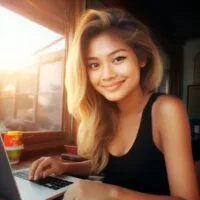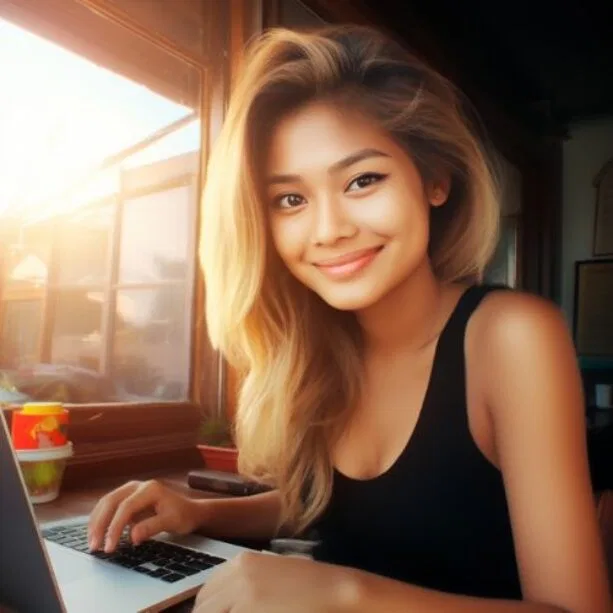 About The Author
With expertise in multiple fields, Rei Bayucca offers readers captivating and insightful articles. Through her writing, she aims to engage and enlighten readers with thought-provoking content. Experience and dedication ensure that her work is well-crafted and impactful.